Payment Methods
Payment Methods
We accept the following payment methods:

Paypal is one of the most popular online payment methods in the world. We are fully PayPal verified so that you can always shop with peace of mind.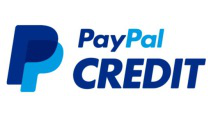 PayPal Credit (Visa, MasterCard, Discover, American Express, etc.) For USA customers only at the moment.

We accept Visa, Visa Debit, Mastercard, American Express, Discover, JCB. Please note that Lovessales does not collect your credit card number or personal information when you make a payment. For questions regarding your transactions on our site, please consult your card-issuing bank for information.